Interested in playing with anything old and covered in or containing dirty black oil.(and preferably British made)
After selling proper,professional quality tools for thirty odd years,I've pretty much retired from Baconsdozen Imperial Tools.I now have more time to mess about in,on or under old machinery and vehicles. I still have some stock of decent quality Whitworth,BA and AF tools listed for sale here. Please contact me to find out what else I have,or to order from overseas etc.
My web pages of tools etc are defunct but I have some personal pages still live and links to them are below.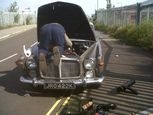 Tel (44) 01472353993 or Mobile 0797443562

Rover P5b rolling resto. | My first london taxi cab | My second cab. | Mk1 V4 transit motorhome. | A home made motorhome
Range Rover P38. | Fixing stuck fastenings. | Freeing seized engines. |Imperial tool conversion charts | Repair leather seats.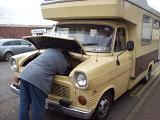 Some of the older pages from our site are archived,pages about Lowestofts fishing fleets etc are here, the harbour etc here.and our old shop here.
You can e-mail by clicking on the computers below