Baconsdozen
After over thirty years of selling good quality imperial tools I've had enough,Ive retired and the entire stock of tools are being cleared.The remaining tools are all listed for sale On This Page.
Tel (44) 01472353993 or Mobile 0797443562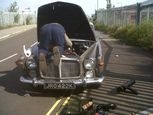 Rover P5b rolling restoration. | Running an old london taxi cab. | Mk1 V4 transit motorhome. | A home made motorhome
Range Rover P38. | Fixing stuck fastenings. | Freeing seized engines. |Imperial tool conversion charts | Links page.